Shop for S
t Patrick's Day Gifts
Get some great music and merch for St Patrick's Day with these St Patrick's Day gifts.
Why do so many people love kilts?
There are many compelling reasons to wear a kilt as a man. Maybe because we are kilted for HER pleasure. That's why this is our best-selling t-shirt. It is every kilt-wearer's dream. Get a free bumper sticker and a digital album of fun Celtic songs when you buy the shirt. $40 value for just...
You Are the Hero of Celtic World Music!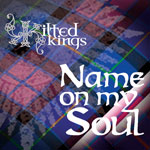 Become the hero of an epic adventure with powerful, Celtic world. Sing, Dance, Smile with Kilted Kings debut album, Name On My Soul. Because we wear kilts, and You are royalty! Kilted Kings features Marc Gunn on autoharp and vocals and Randy Wothke on percussion.
Tracks:Slainte Mhaith, Purple Flower, Blue Sun, Wild Mountain Thyme, Marionette Jig / Spinner's Reel, Ride On, Prettiest Hobbit, Cloghden More, Flower of Scotland, Name On My Soul
Get our FREE Celtic Music App
Listen to the Irish & Celtic Music Podcast on your phone with this fun and easy-to-use iPhone or Android mobile app from Libsyn, my podcast host.
Download:
- For iOS on iTunes
- For Android on Amazon
- Or Listen on Spotify
The ICMP App has the following features:
- Streaming access to play episode from anywhere
- Always updated with the latest episodes
- Download the episodes and play them when offline
- Playback resume (when interrupted by a call or other distraction)
- Favorites (mark the episodes you want to return back to over and over)
- Quick access to all the contact methods for the show
If you're a fan of Marc Gunn's Music, then you might also enjoy my Celtic Music app, exclusively available through Android phones.
Get Browncoat Drinking Songs for Firefly Fans
Fight back against the Alliance. Get the Deluxe copy of As Long As I'm Flyin', my newest album of Browncoat drinking songs.

You'll get the physical CD, the newest Monahan's Mudder's Milk alabatross t-shirt, a totebag, and the Firefly Drinking songs songbook with all of the lyrics from both Firefly drinking songs albums and a few bonus lyrics. Plus, you'll get my deepest thanks for supporting the Resistance (my kids;)